Along with choosing the right magnifier you also need to know how to use it correctly with the correct lighting. This means that you may need 2-4 macular degeneration magnifiers for doing different tasks.
Choosing the Right Macular Degeneration Magnifier
It is important to use the correct magnifier for your vision. Bigger is not always better. In order to select the best type of magnifier to meet your individual magnification one needs to consider:
√ The Lens Size
The lens size needs to be large enough to see as much as possible and/or small enough to be carry in your pocket or purse.
√ The Magnification
Magnification is the ratio between the apparent size and the true size of the viewed object behind the lens. If an object behind the lens appears ten times larger than its true size, and the object is in  focus, the magnification is 10X.
√  Focal length
Focal Length has do to with how far the magnifier needs to be from your eyes and from the object.
The stronger the magnification, the shorter the distance between the magnifier and the object.
Magnifiers come in different powers or strengths. There are a couple of principles to know about magnifiers. They are:
1. The stronger the magnifier the smaller the viewing area.
2. The stronger the magnifier the closer the lens must be to the viewing area.
Use the weakest magnifying power that does not cause eye strain.
Often a stand magnifier (a magnifier on legs) is the magnifier of choice because it is preset with the correct distance to maintain the  best focus.
However, if you are able to read a book with a 2x hand-held  magnifier, the magnifier can be several inches away from the book and  your eyes can be several inches away from the 2x hand-held magnifier.
Macular Degeneration Magnifier Lens – Acrylic or Glass?
There are two types of lenses:
√ Glass lenses
Glass lenses allow more light to be transmitted through the lens  and usually have very clear optical qualities. It is hard, but not  impossible, to scratch a glass lens.
√ Acrylic lenses
Acrylic lenses are very lightweight compared to glass lenses.  They normally don't break or shatter and are scratch resistant. Many of  today's magnifiers are acrylic and have exceptional optical qualities.
Types of  Macular Degeneration Magnifiers
Illuminated Magnifier
A magnifying glass with light provides light and magnification. As your macular degeneration progresses you will need
more light and
more magnification.
You don't have to get under a lamp or over to a sunny window to read  with lighted magnifiers.  Use it for checking your mail, reading a menu, or searching for a new recipe.
Keep in mind that when the power of the magnifier increases, the size of the lens decreases.
Full Page Magnifier
The size of this magnifier limits the magnifying power. The most it can magnify is 2X – 3X. However, with the right lighting, this can be enough magnification for many people. A full page magnifier offers the benefit of seeing more than just a few words on a page.
There are two kinds of full page magnifiers:
This magnifier has to be held at just the right distance for clarity so it is best for short-term reading – like checking a recipe  in your favorite recipe book or a magazine article.
2.  Hands Free
Stand or neck magnifiers leave your hands free and there is no need to constantly adjust for the right distance so the words aren't blurry.
Find out more about these reading magnifiers here:
Handheld Electronic Magnifier
A handheld electronic magnifier offers many features that are not
available with  the traditionalhand held
magnifying glass.
Features such as: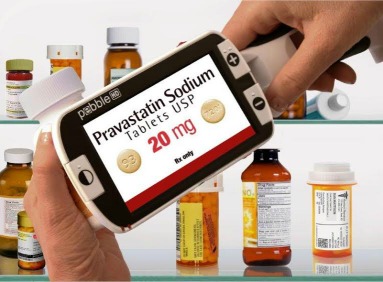 1. Larger Field of View
2. Ability to Adjust the Magnification Power from 2x – 10x without having to get closer.
3. Adjust the contrast by choosing the contrasting colours  best for you – such as black print on white background, white print  on a black background or yellow print on a black or blue background
4. Crisp, clear picture in either coloured or in black& white on a LCD Screen
5. Adjust the brightness
If you'd like to find out how you can get a free in-home demonstration for 10 days click here
Magnifying Desk Lamp
A magnifying desk lamp is a great visual aid to help with reading, hobbies,
writing bills and cheques, writing a letter or addressing an envelope.
The magnification power for these lamps range from 2X to 3.5X.   The lenses can be made of high quality plastic or glass for distortion  free viewing.  Get one with an adjustable or gooseneck so it can be positioned in a way to provide you with the best visibility and comfort.
The TV Magnifier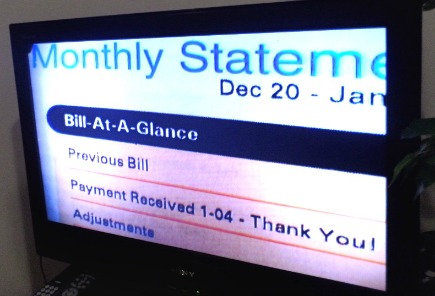 A TV magnifier can be used in lots of different ways.  My father-in-law uses it to display his bills onto the TV screen, read the sports page in his local newspaper, and to look at greeting cards that he receives.  This inexpensive and easy to install device can magnify  to the size of the television screen – so the larger the screen, the bigger the print.
Pocket Magnifier for ARMD*
Pocket Magnifiers are small, compact and lightweight magnifiers that you can take with you anywhere. Their field of vision is limited but they are very useful for a quick read.of small printed matter.  (*Age Related Macular Degeneration)
There are round, rectangular, and square pocket magnifiers with glass or plastic (acrylic) lenses.
Both illuminated and non-illuminated magnifiers are available illuminated are the best alrounders.
The range of magnification goes from 2x to 20x power magnifications.
Click here to read about Pocket Magnifiers:
Handheld Magnifier
For short periods of reading a hand held magnifying glass will usuallysuffice. Ideal to read a newspaper article, a letter, instructions, or to go through your mail, check a bottle label.
These handy magnifiers come in many different sizes, shapes and powers.
Illuminated LED (Light Emitting Diode) hand held magnifiers offer excellent light and help the magnification.  The bright LED lights don't burn out, very economical battery life and you are independent of having to relying on good light.
The benefit of a hand-held magnifiers is that they are portable. They come in a variety of prices and magnification power from 2X to 100X
Click here for more information: Hand Held Magnifiers
Hands Free Magnifier
It can be very tiresome and annoying to hold a magnifier while working on a hobby or reading if two hands are required  if you have the use of only one hand.  Whether you want to wear one around your neck, clamp to a workbench in the garage, fixed to a table top or have one at your desk, this type of magnifier will make it a lot more comfortable and productive for you to work with.